| | |
| --- | --- |
| Posted by Invizzle fo' shizzle on October 31, 2012 at 10:20 PM | |
    I don't know about y'all but If I were throwing one of my bros under the bus and doing business with the guy who torched his daughter while making my poor homie watch that shit, I would have had him throw in the Rollls too. I mean shit, if that motherfucker can afford to have a $5M "revenge prize" as part of his life insurance policy, he can sure as shit afford to part with that swagnificent car. And a Bentley. Damon Pope's rich ass could afford to throw in a Bentley too. 
    Something tells me that even if the club voted down this new business venture with Pope,  Jax would still have gone out on his own and done it anyway.  I was suprised that didn't happen. I love the turmoil on Tig's face when he was about to vote and I'm pretty sure Tig felt like punching Jax in the face right then. It's bad enough that this idea was even brought to the table, but Jax twisting Tig's arm and forcing to vote yes on this is not sitting well with Tig, and you could see it on his face. I think Tig capping the guard's wife was his way of acting out. He knows he'll never get to avenge Dawn's death as long as Jaxhole is forcing to be a good dog, so being as violent as possible in the tasks that Jax assigns to him is his way of satisfying his need to hurt something and numb his pain.  Kim Coates did such a great job showing us that pain.
WTF?
   This week's Gemma drama was almost kind of cool. That crazy bitch shooting herself in the bedroom was pretty interesting, although really fucked up. The only thing is, I stopped paying attention whenever Gemma was talking to Nero. Dora the Whora was his sister, did I hear that right? And that weird bitch was in love with him? Huh? Did they go where Jax almost went with Trinity? Like I said, I stopped paying attention. I've actually been doing that a lot this season.
TWO MORE DEAD WIVES TO ADD TO THE LIST
   Wives and girlfriends are not safe on this show, and I was not surprised when Rita bit it. I liked Rita, but I don't think I'll miss her. The death of the guard's wife was just cool. That was such an awesome scene. Graphic, but awesome. We're up to 7 dead wives and girlfriends. I'm betting we'll hit 20 by the end of the series.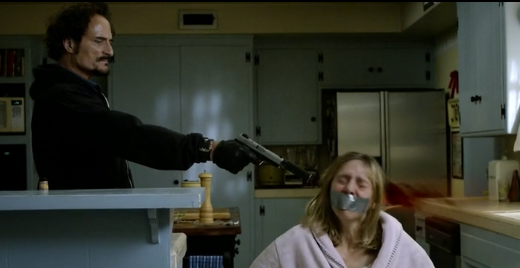 I FUCKING CALLED THAT SHIT
   The fact that Clay's and the Nomads are behind the home invasions was not a shock to me. In fact I totally called that shit. I mean, if I were a devious motherfucker like Clay and I'd be usurped by the brat I'd be doing anything I could to get the gavel back too. It's interesting that Jax is slowly turning into Clay, so even if Clay gets the gavel back (he won't) the club is no worse off.  Either way, they've got a greedy, increasingly violnet leader who has one foot out the door. It's a lose lose situation for SAMCRO.